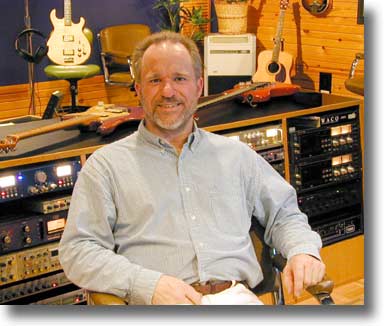 Meet Brian Konzelman
His experience in the music and recording industry spans five decades of writing, performing, recording, and producing music that has touched the lives of millions.
ROOTS..... From earliest childhood, a passion for music led to years of classical as well as contemporary music training. At thirteen, Brian was performing on TV as a guitarist with THE BUMBLE BEATS. Teen years found him busy writing, performing and recording music for custom records, the theater and television, as well as touring and recording with THE NEW JAZZ ENSEMBLE. Classical music was a natural for Brian as well. He performed and toured as a solo violinist, served as concertmaster, as well as composing and guest conducting his own orchestral scores.
MUSICIAN..... The decade of the 1970s found Brian and his wife, Sherry, on the road with their music. In those very early days of what is now known as Contemporary Christian Music, Brian was there, writing, recording, producing, and touring with THE NEW CREATION SINGERS. One of the first SPARROW RECORDS artists, The New Creation Singers are credited as the first internationally known contemporary praise and worship music group. Many of the scripture songs and choruses that have been popular in contemporary Christian music originated from their seven albums.
ON THE ROAD..... touring coast-to-coast and internationally from 1971 to 1980, Brian performed in concerts with Christian music legends B.J. THOMAS, ANDRE CROUCH, KEITH GREEN, PAT BOONE, 2ND CHAPTER OF ACTS, and hosts of other artists. Record sales overseas led to multiple concert tours including Europe, Scandinavia, and England, appearances on the BBC, and at the 1972 OLYMPIC GAMES in Munich, Germany. 1975-1976 was spent doing an extended yearlong worldwide concert and record promotion tour including concerts, radio and television appearances in Britain, Europe, Israel, Iran, New Zealand, Singapore, Japan, and Hawaii. An artist/producer contract with SPARROW RECORDS followed, and Brian began to branch out as producer and writer for other artists.
PRODUCER and ENGINEER..... Brian expanded his involvement in audio production, designing and building three recording studios, and producing recordings for a wide variety of clients. In addition to his record album and music productions, Brian has produced award-winning radio ads, TV and film soundtracks, and/or multimedia sound for clients AMY GRANT, B.J. THOMAS, BIG RED, BILLY GRAHAM, DELTA AIRLINES, MICHAEL W. SMITH, MARANATHA RECORDS, PRESIDENT RONALD REAGAN, SANDY PATTI, CHUCK SWINDOLL, WAYNE WATSON, WORD RECORDS, STARSONG RECORDS, SPARROW RECORDS, DION, JAMES DOBSON, CARMAN, THE IMPERIALS, JOE ENGLISH, JACK LALANE, AMERICAN RED CROSS..... He has worked on albums and film soundtracks with KURT KAISER and KNB MUSIC , including the MOMENTS project with GRAMMY AWARD WINNER GEORGE BEVERLY SHEA , and the 11 film - 60 episode network series SCENIC WONDER BIBLE.
SOUND MAN, SOUND DESIGNER and AUDIO CONSULTANT..... Brian has engineered sound systems for venues ranging from churches to outdoor festivals for audiences of over 50,000, and engineered live sound systems for a wide variety of artists including THREE DOG NIGHT, LEON RUSSELL, ASLEEP AT THE WHEEL, 38 SPECIAL, JOHNNY GIMBLE, TOMMY EMMANUEL, LARRY CARLTON, JOSE FELICIANO, RICKY SKAGGS, B J THOMAS, MICHAEL MARTIN MURPHY, DON MCLEAN, NICKEL CREEK, KEITH GREENE, WAYNE WATSON, MONTY MONTGOMERY, GARY P NUNN,  MARCIA BALL....
VOLUNTEER.....Working with numerous organizations, Brian has been providing hands-on training and support for indigenous language tribes, radio broadcasts, ethnic music recording, and audio bible translation in Central and South America, Guatemala, Honduras, Peru, Columbia, Bolivia, the Amazon jungle and the Andies mountain regions, training and helping with the design and construction of recording facilities. CLICK HERE to see an article about his travels.....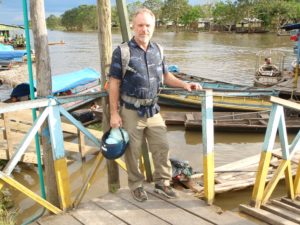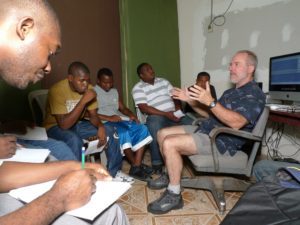 TEACHER..... For over 40 years, Brian has been active in the area of audio education. After having designed and taught audio technology courses for Baylor University, Brian moved on to help build the fully accredited Audio Technology Program at McLennan Community College, where he is a Professor of Audio Technology. He teaches a two-year associate degree program in the Music Industry Careers state-of-the-art digital recording facilities and laboratory. Brian has appeared in the pages of MIX magazine, RECORDING ENGINEER PRODUCER magazine, ELECTRONIC MUSICIAN magazine. His graduate students include many Gold Album Award Recipients, Grammy winners, studio owners, producers, audio engineers, and record executives.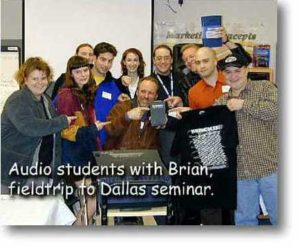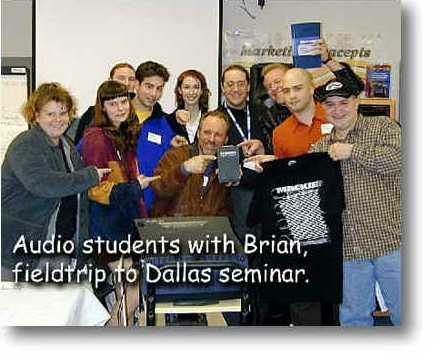 AND FINALLY..... These days, Brian is busier than ever writing, arranging, recording and producing music, teaching at the college, traveling to exotic locations to build studios and teach engineering, and managing the publishing concerns of Seasonings Music and KNB Music Inc. He is a Certified Personal Trainer, has taught fitness classes and physical training for the police academy, teaches firearms safety, and actually believes that he will someday decide what he wants to be when he grows up....
Visit these links to other pages at RanchStudio.com.....
Articles
Share this info with your friends! click on one of the social network icons below.....